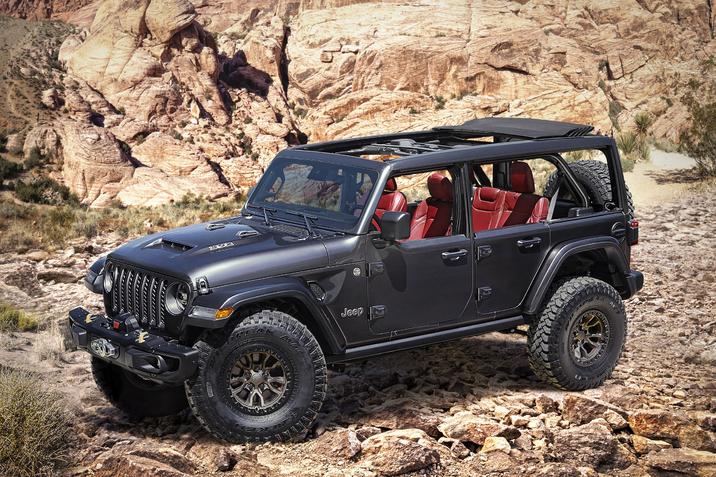 While the Ford Bronco release last month sent the media world into a frenzy, many overlooked the epic spy shots of the Jeep Wrangler Rubicon 392 concept that were released the very same day. Amidst the chaos, Jeep finally responded to a decade-long plea from off-roading enthusiasts to offer the Wrangler with a powerful engine.
Rest assured, the message was heard loud and clear. While the 5.7L Hemi V8 engine would have sufficed and certainly appeased the Wrangler nation when the top powertrain offering has only been a 285-hp 3.6L V6 since 2012, the 392 concept takes power to a whole new level in the Wrangler Rubicon.
Don't get us wrong; the 3.6L Pentastar is a fine engine with a proven track record of reliability, refinement and durability. It's only shortcoming is that it leaves little to be desired for horsepower-starved individuals.
More Power is Always the Answer
The 6.4L Hemi boasting 450-hp and 450 lb-ft of torque under the hood of the Wrangler Rubicon 392 concept is sure to squash those concerns. The powerful V8 is also found in top performance trim offerings like the SRT Charger, SRT Challenger, SRT Durango, and SRT Grand Cherokee.
That's 165 more ponies than any Wrangler has ever had before. With the Hemi V8, the Wrangler Rubicon 392 will now be equally as fun to drive on pavement as it is off-road. An official zero to 60 mph time has yet to be posted, but early projections estimate it will be well under five seconds. That's absolute madness for a 4x4 four-door SUV wearing aggressive all-terrain tires.
Wrangler 392 Stays True to its Rubicon Roots
Though the new powertrain is certainly the highlight, the new Wrangler 392 certainly isn't about to lose any of its class-leading off-road capabilities. This is a Rubicon, after all. The Wrangler 392 concept features locking front and rear differentials, a two-inch lift, and an upgraded suspension with Fox internal-bypass shocks similar to those found on the desert-runner Gladiator Mojave. The concept was also shown wearing an aggressive SRT inspired hood, black beadlock wheels, and massive BF Goodrich All-Terrain tires ready to conquer any trail in its path.
More Than a Concept?
While the Wrangler Rubicon 392 is merely a concept at this point, all signs point to it becoming an actual production vehicle. Road and Track cites that a Jeep insider revealed that 30 prototype models have already been built at the company's plant in Toledo, Ohio. It's unlikely that many models would have been developed if the Wrangler Rubicon 392 was truly a "one-and-done" prototype concept.
Plus, the pressure Ford created with the release of the Bronco is immense. With the top trim, the 2021 Bronco Badlands comes equipped with a 2.7L twin-turbo EcoBoost V6 with a projected 310 hp and 400 lb-ft of torque. That's considerably more than any current Wrangler powertrain offering, and that's something Jeep certainly can't let happen.
The Wrangler and its CJ model predecessors have been global icons and the premiere off-road vehicles of choice in the United States for 80 years. Jeep certainly isn't about to surrender its crown that easily. A 6.4L 392 Hemi-powered Wrangler would put an end to that discussion once and for all.